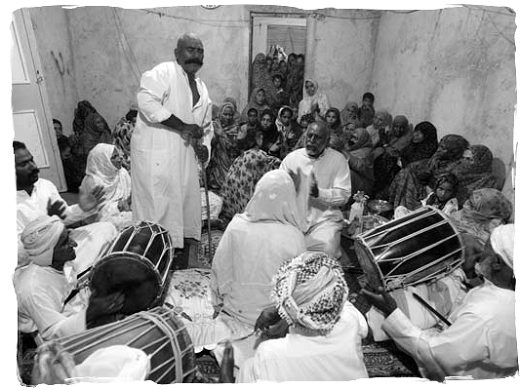 Traditional Music Therapy in Iran by Dr. Peyman Nasehpour

Gwat: Gwat literally means wind. Gwati is a kind of mental illness. A Gwati person is not mentally balanced. The melody is for healing a Gwati person while dancing and their actions and figures are monotonous. After doing these monotonous actions and figures the dancers go to the world of ecstasy. The name of the conductor of gwat ceremonies is gwati-mat. The text of this melody is the praise of Lal Shahbaz Ghalandar and Sheikh Abd-al-Ghader Gilani. The ceremonies are continued during three to seven days. Every day the ceremonies are done from one to four hours. It is believed that after the seven days if the illness is not removed then she/he will die. This illness is for more for women than men. Gwat melody can be considered as a kind of traditional music therapy.
Damal: This illness is something like gwat but it is more for men than women. The conductor of the damal ceremonies is called khalifeh.

In both damal and gwat ceremonies all musical instruments especially sorud, tamburak and doholak can be used.

Maled: These ceremonies are very similar to the ceremonies done in khanghah of ghaderi dervishes. The unusual actions are a part of the both ceremonies. Mastan is the name of those people that do the unusual actions. The melodies used in the ceremonies are used sometimes for music therapy also. The only musical instrument that is used in these ceremonies is sama (a kind of frame drum similar to daf).