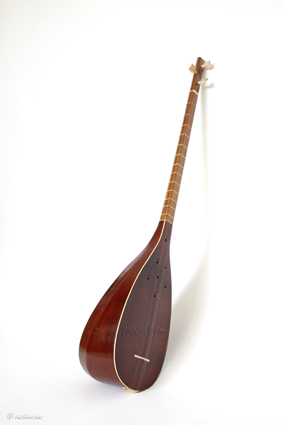 A Note by Dr. Peyman Nasehpour
Tanbour with the ancient name tambour is the very ancient long necked lute of Persia, though even today it is played in Persia (Iran), particularly in Kermanshah city that is the center of Kermanshahan province of Iran.
According to three sculptures found in Susa of Iran, the history of tanbour goes back to 1500 BC.
Tanbour has a larger sound-box than Persian setar, usually has two or three strings and is played by all fingers of the hand. The structure is related to Persian dotar, but the style of playing is different from dotar and setar. It is very popular of the western areas of today Persia (Iran), though recently some famous musicians like Shahram Nazeri have used this instrument in classical music of Iran.
Apparently, it is related to tanbura and tampura of India that are respectively played in North Indian and South Indian classical music.
A little etymology of tanbour
Tanb in ancient Persian language means belly and since the sound-box of this instrument has a belly form, it has been called tanb-var and var here is the suffix for possession like honar-var that means a person who has art and means artist (Honar means art). Also var has the same meaning as er in English language.
Some believe that since the body of the tonbak (Persian goblet shaped drum) is belly-form, it is called tonb-ak and k here is diminutive suffix.
Some of the famous tanbour players are: Ostad Nour Ali Elahi, Seyyed Khalil Alinejad, Kaykhosro Pournazeri, Ali Akbar Moradi, Darvish Amir Hayati, Davood Azizi, Seyyed Amrollah Shah Ebrahimi, Taher Yarveisi, Golnazar Azizi.
Other spellings for tanbour: tanboor, tanbur, tambour, tamboor, tambur.
Appendix:
The existence of the word tonb in the names of the two Iranian Islands, tonb-e-bozorg (Greater tonb) and tonb-e-kuckak (Lesser tonb) is not accidental, since Island is like a belly in sea, gulf or ocean.