Persian Dotar the Two-Stringed Long Necked Lute



A Note on Dotar by Dr. Peyman Nasehpour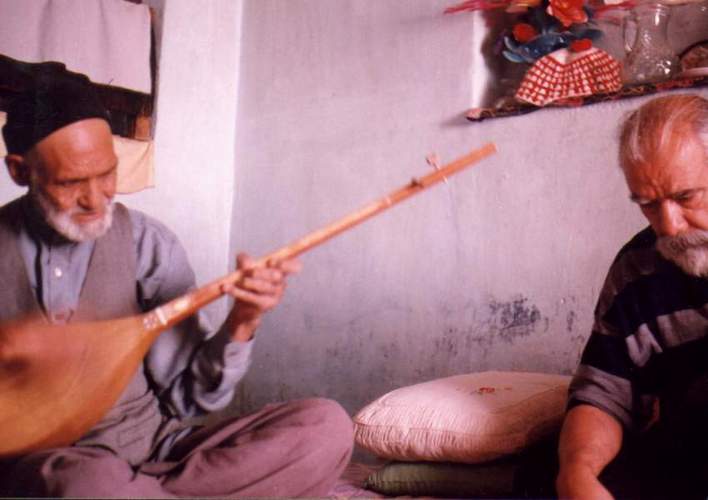 Persian Dotar the Two-Stringed Long Necked Lute
Dotar is the Persian two-stringed long necked lute used in Persian regional (folk) music. Dotar is played in Khosrasan, Mazandaran, Ali Abad Katul and Torkman Sahra in Iran, while this very ancient instrument is played in many other places of Central Asia such as Turkmenistan, Tajikistan, Uzbekistan and even in Afghanistan, Pakistan, India, Bangladesh, and Uyghuristan of China, though different spellings for dotar or different names for this instrument are used. For example the name "dutar" is used in Uyghuristan, while the name dotara is applied in Bangladesh.
Etymology:
The name dotar is the combination of the two Persian words, "do" and "tar", meaning "two" and "string" respectively. Definitely the name dutar is just a dialect of the name dotar and clearly the Bengal name dotara comes from the word dotar.
Many believe that the dotar is the ancestor of the two instruments tanbour and setar. Tanbour - that is played in the Magham music of Kermanshah - is itself a very ancient instrument, therefore one can guess how ancient can dotar be.
The structure of Dotar:
Dotar's structure is similar to the other long necked lutes. As its name suggests, it has only two strings. The sound-box of the instrument is pear-shaped with a couple of movable frets on its neck. The whole body is wooden. The sound-box is made of the wood of the tree "morus nigra" and the neck is made of the wood of the tree "prunus armeniaca" or sometimes "walnut" (juglans regia). Though in the past, its strings were made of silk, today its strings are metal.
Famous Iranian dotar players include: Haj Ghorban Soleimani (Khosrasan), Gholam Ali Pouratayi (Khosrasan), and Nazarli Mahjoubi (Torkman Sahra).
Related instruments: Ektar, the Indian one-stringed long necked lute, and Setar, the Persian four-stringed long necked lute. Afghan dutar, which has fourteen strings.