Pandit Nayan Ghosh on Sitar
Ishaan Ghosh on Tabla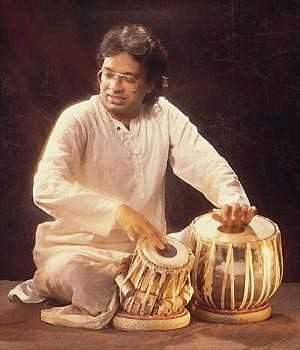 Pandit Nayan Ghosh
The very great master of tabla and sitar
Long time ago in 2002, Pandit Nayan Ghosh permitted us to host his profile in our website. We include that in a separate page in our website.
Pandit Nayan Jyoti Ghosh
Pandit Nayan Ghosh is the sixth generation musician in the Ghosh family.
His Profile:
Acclaimed as one of India's finest Tabla players, Pandit Nayan Ghosh has drawn the attention of serious musicians and connoisseurs alike for his innate artistry, rich repertoire and tonal brilliance. His immense talent and a wholesome training has seen him blossom into an extraordinary musician and in the words of several senior stalwarts, an important reference source already for today's younger musicians.
One of India's front-ranking Tabla players, Pandit Nayan Ghosh is widely acknowledged as a brilliant soloist and a refined accompanist. The hallmarks of his musicianship are a ringing tonal resonance, powerful yet superfine dexterity and an enviable traditional repertoire of the Farukhabad, Delhi, Ajrada and Lucknow styles.
He has received intensive and immaculate training from his late father, the renowned maestro 'Padmabhushan' Pandit Nikhil Ghosh, who was considered an important figure in the Indian music scene of the 20th century. Nayanji's elder uncle was the legendary flautist Pannalal Ghosh. Nayanji grew up listening to such maestros like Ustad Ahmedjan Thirakwa, Ustad Amir Hussain Khan, Ustad Jahangir Khan, Ustad Habibuddin Khan, Ustad Inam Ali Khan and several others.
Since 1974, Nayanji has performed solos and duets with his father at several prestigious international music festivals in the capital cities of Europe, U.K., U.S.A., Canada, Australia, New Zealand and Philippines as also across the length and breadth of India.
He has provided evocative accompaniment to almost all the leading personalities of Indian music, to name a few, Pandit Ravi Shankar, Ustad Vilayat Khan, Pt. Nikhil Banerjee, Pt. Buddhadev Dasgupta, Smt. Sharan Rani, Ustad Amjad Ali Khan, Pt. Shivkumar Sharma, Ustad Munnawar Ali Khan, Ustad Salamat Ali Khan and Pt. Jasraj.
Nayan Ghosh is also acclaimed in India and around the world as an equally outstanding Sitar player, a fact that gives his musicianship a unique dimension.
In the midst of a busy performing schedule, Pandit Nayan Ghosh imparts advanced training to young professional musicians at Bombays prestigious music academy, SANGIT MAHABHARATI at Juhu.